Technical Details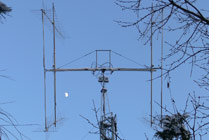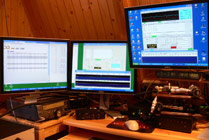 Station planning, engineering and maintenance by SP4KM.
TX - Kenwood TS-2000, available TX polarities are:
Linear H and V as well as Circular - manually switchable.
LNA - 4 x Extra-2 Rev. 6 by HA8ET ( dual stage )
RX - IQ+ Rev. B by HB9DRI adaptive polarity receiver, also manual H/V RX available
Antennas - 4x MXP28 by M2 dual polarity yagis, optimized spacing by VE7BQH ( 483 x 483cm ),
theoretical gain of the system 21,14 dBd
Feedlines - Andrew FSJ 4-50B ( separate lines 2 x for TX & 2 x for RX ), 22m long up to the LNA boxes at the antennas
+ LMR-400 cabling at the antennas ( 8 x 9m long ). Estimated Transmission Loss is ca. 1,5 dB.
Low Pass Filter - DCI-160-LP by Digital Communications
Software - MAP65 v.2 and WSJT9 by K1JT, Linrad by SM5BSZ.
Rotators - Azimuth: BIG RAK, Elevation: RAEL - by Alfa-Spid
Tower - 15m high by SP2YY with custom motorized winch, antennas mounted on a sledge.