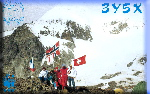 RTTY DXing Gallery
RTTY DXING
RTTY DXing is the core of my ham radio activity. I enjoy it for the last 25 years and still find it both exciting and challenging. Being concentrated on RTTY I managed to earn prestigious RTTY ARRL DXCC Honor Roll in 2005, the first one in SP.
As of now ( January 2014 ) my RTTY DXCC score is 339 out of 340 current DXCC's, so I need just one more to reach for #1 RTTY Honor Roll:
Nowadays RTTY is quite a standard mode utilized by all the major DXpeditions and is also very popular among general Ham public. Still it is distinctively different form both CW and SSB - I would say more polite and quiet in terms of QRMing and policing that we all know well from 14.195 MHz. Working RTTY I have this great feeling of ham spirit like in the 'old days' and I just hope RTTY DXing will remain this way, while gaining even more deserved worldwide popularity.
In the RTTY DXing gallery ( button on the top of the page ) you can find my QSLs that I consider 'creme de la creme' of what I managed to work on the HF bands.